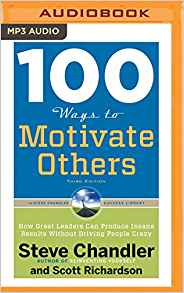 Every communication you send to your team is an opportunity, explain authors Steve Chandler and Scott Richardson in the book 100 Ways to Motivate Others. "Your first job," the authors tell managers, "even before your job of informing others, is to motivate others…A true leader never wastes the opportunity to instill optimism, they explain.
But, for business blog content writers, is that really true?  "Negative titles often work better than positive ones," Lorraine Ball of roundpeg.biz pointed out. "The posts with negative titles stand out in your blog roll, on your Twitter feed or LinkedIn blog page." Why? "People are drawn to articles with negative titles because they are afraid of doing something wrong or the title connects with something they were feeling but hadn't been able to put into words," Ball explains.
In many marketing blogs, in fact, the content writers appear to be focused on appealing to consumers' fear.  Fear is one of seven emotions that are considered "key drivers" for successful ad copy writing. (Others include greed, guilt, anger, salvation, and flattery.) After decades of writing question/answer columns and blogs, one of the questions I continue to ask myself is whether "scare tactic", or at least negative, marketing is ever appropriate for use in business blog writing.
First, the blog represents just one aspect of any company's  (or any professional practitioner's) overall marketing strategy, and its tone needs to be consistent with the client's overall brand. These clients want to appeal to a better kind of customer (the ones who buy for the right reasons and then remain loyal, not those who are "scared" into action.)
On the other hand, I teach at Say It For You, we blog writers do need to go right to the heart of any possible customer fears or concerns by addressing negative assumption questions before they've even been asked. In the final analysis, though, I agree with the Chandler and Richardson concept – positive messages pack more power to motivate the right people for the right reasons.






The post appeared first on Say It For You.