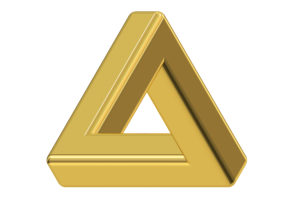 "Remember, human nature never changes," cautions Jeanette Maw McMurtry in Marketing for Dummies. While design trends for websites may change, she says, the way our unconscious minds process information never does.
The term "Golden Triangle" refers to the way English-speaking people view search results, starting at the upper left side of the page, moving our eyes right, then browsing down the left side of the page, reading the top three items, choosing one. That's actually a "big what", according to McMurtry. If your call to action buttons and key message are in the space outside the "triangle", visitors won't find something relevant before switching to another site.
While the author is discussing web pages in general, the same principles hold true for blog pages.
Pow opening lines: 
In any marketing blog, it's the keyword phrases in the title that start the job of getting the blog found.  Burt, once the online visitor has actually landed, it takes a great opener to fan the flicker of interest into a flame.  In fact, a big part of blog content writing, I've found, involves getting the "pow opening line" right.
Bolding, bullet points, and italics:
With readers' eyes browsing down the left side of the page, having bold face subtitles helps them "settle" on key points that are of interest.
Focusing on one "lane":
Focus on just one or two  important ideas in each post.  Doing that lends more impact and helps readers quickly conclude they've come to the right place for what they need.
Powerful closing line:
Assuming you've been successful in keeping the reader with you, deliver  a powerful closing line that repeats the main idea of the post.
Remember the golden triangle in blogging for business!






The post Remember the Golden Triangle in Blogging for Business appeared first on Say It For You.