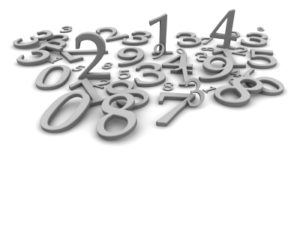 "Use numerals to express numbers 10 and above, and use words to express numbers below 10," Paige Jackson of the American Psychological Association reminds writers.
Another writing guidance source, the Purdue OWL, has this to say: "Although usage varies, most people spell out numbers than can be expressed in one of two words and use figures for other numbers." The OWL offers several examples of each choice:
Words:
over two pounds
six million dollars
after thirty-one years
eighty-three people
Numbers:
after 126 days
only $31.50
6,381 bushels
4.78 liters
When Pamela Vaughan and her colleagues at HubSpot analyzed all there own blog posts to see which titles had performed the best in terms of search results, the top eight each included a number, starting with::
"12 Quick Tips to Search Google Like an Expert"
"12 Mind-Blogwing Statistics Every Marketer Should Know"
"How to Monitor Your Social Media Presence in 10 Minutes a Day"
"The 9 Worst Ways to Use Twitter for Business"
Ryan McCready of Vennage.com is even more specific, suggesting, after looking at 121,333 unique articles, tthat 10 is the best number to use in blog titles. The number 5, McCready points out, is second. Avoid using the teens, he adds, and never, ever use the number 2.
Career coaches suggest that using numbers may be one of the most underutilized strategies in cover letter writing. Numbers are a great way to be specific about your accomplishments.  They also show that you pay attention to benchmarks and concentrate on setting and meeting goals.
As a blog content writer and trainer, I stress that numbers can be used in business blogs to "build belief". For example, statistics can demonstrate the extent of a problem your product or service helps solve.
Whether you follow the APA formatting or the Purdue OWL, using numbers in your business blog is a way to quantify, or to qualify – and get the business!






The post Let Me Count the Ways to Use Numbers in a Business Blog appeared first on Say It For You.