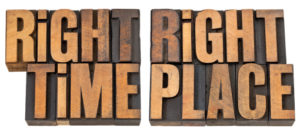 "While planning your blogging strategy and schedule, you want to avoid busy times, when a lot of brands are posting to their blogs and there is increased competition for readers' attention," advises trackmaven.com. So, what is the best time to publish a business blog?
The question of timing is an important one – according to a recent report by MarketingProfs.com, 75-80% of marketers use blogging as part of their company's content marketing strategy. In general, the most competitive day of the week to publish a post is Wednesday, with Sunday posts getting the most shares.
Writtent.com offers the following Rule of Thumb: Find the perfect balance of what you want and what your audience wants. Easier said than done, of course, but key questions to ask yourself, Writtent. adds, are whether you can keep that schedule consistently and publlish high-quality content at that frequency.
Of course, the best time to publish blog posts, Writtent.com concludes, varies by audience. If they are mostly business people, blogging on Saturday wouldn't work well. As blog content writers for businesses and professional practices of many varieties, at Say it For You, we have come to realize the truth of that finding. (Our Say It For You blog is published every Tuesday and Thursday, first thing in the morning, and many of the subscribers "open" it very early in their business day.
Research continues apace on the when-and-why- then question about blog post publishing. Dan Zarrella of Hubspot aggregated millions of lines of data over three years, pinpointing three stats about when to publish blog posts:
For page views – Monday between 8 and 11 AM
For increased engagement – Saturday between 8 and 11 AM
For more Facebook shares – Friday, Saturday, and Sunday
The most important of the insights Zarella offers, in my humble opinion as a content writing trainer, is this one: "Increasing publishing frequency leads to more traffic and incoming links."






The post Business Blog Posts – the When and the Why Then appeared first on Say It For You.