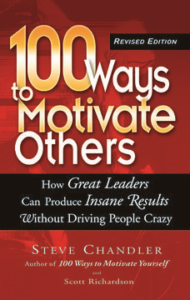 "Many leaders are at their best in the first hours of the morning; others hit their prime in the late morning; others still, in the afternoon", authors Steve Chandler and Scott Richardson explain in the book 100 Ways to Motivate Others.
"We all have 24 hours.  It doesn't matter how rich or powerful you are, you still only have 24 hours..Only you can slow time down by choosing what you choose to do."  As a professional blog writer and corporate blogging trainer, I often talk about the "drill-sergeant discipline" it takes to maintain the frequency and longevity needed  for successful blog content writing.
"All the world's a stage," Chandler and Richardson tell leaders. "When it's your turn to be in a scene, try being really enthusiastic……Glow. Sparkle. Radiate leadership and solutions." For blog writers, I believe, this line in the book is one to remember:  "Whichever is your best time to shine, don't waste it on trivial, low-return activities." We should be doing our writing at our own "prime time", when we are at our absolute best emotionally, physically, and mentally. Unfortunately,  Chandler and Richardson explain, we too often "find great pleasure in spending our highest-energy state on small tasks."
"Timing is everything, and maintaining a blog is no exception to the rule," cautions the Kissmetrics Blog.  "Learning when your audience is tuning in, and therefore when to post, is mandatory for any successful blogger." There are pros and cons to posting during high-activity hours; although there might be more visitors, the content can lose prominence due to "noise". Posting at night, conversely, affords easier front page promotion, but your post is likely to draw less engagements.
Specific insights offered by Kissmetrics include:
The highest percentage of users read blogs in the morning.
The average blog gets the most  traffic at the beginning of the week.
The average blog gets the most comments on Saturday.
If timing is everything, then what about frequency?  "You should be making a concerted effort to keep up with a consistent publishing schedule to maintain fresh content," blogmutt.com asserts. "Search engines regularly crawl your site looking for new content…if you are posting new, quality information frequently, you increase your chances to rank even better the next time your site is crawled."
Blog content writers must try to hit their own – and readers'- time to shine!






The post Blog Content Writers Try to Hit Their Own – and Readers' – Time to Shine appeared first on Say It For You.