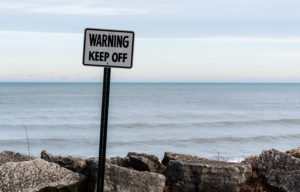 When speaker Todd Hunt saw a sign in his health club reading:
"Please Do Not Pour Water on the Sauna Rocks"
Hunt's first thought, he relates, was "I'll pour water on the rocks if I want to.  Nobody tells me what to do!" But after spotting the second line of copy on the sign, Hunt changed his tune:
"Our system is not built for water."
"Oh, now I understand," he thought.  Hunt reminds his audiences to always add "why" statements to make statements more customer-friendly.
The same concept of "explaining why" is used in training parents, teachers, and caregivers of children with behavior challenges to used "scripted stories". Here's an example:
:.
I like to run. It is fun to go fast.
It's okay to run when I am playing outside.
I can run when I am on the playground.
Sometimes I feel like running, but it is dangerous to run when I am inside.
Running inside could hurt me or other people.
When people are inside, they walk.
Walking inside is safe.
In the case of the sauna and the behaviorally challenged children, the purpose was to prevent action (pouring water or running).  But in marketing, calls to action (CTAs) often use imperative verbs designed to provoke immediate positive action: find out more, call now, provide contact information, etc. The concept, Horner explains in "Writing a Better Call to Action", is to show consumers how to take the next step and to create a sense of urgency around the offer.
Just as Todd Hunt intuited about the power of explaining why in sign copy, searchers who've found themselves at your blog want to know why they ought to keep reading/follow your advice/buy your products and services. Answering the "why's" before they're asked overcomes buyers' natural skepticism.
Prospects actually need answers to five "why's":
1. Why me?  Why did you target this particular market (the one represented by this potential buyer)?
2. Why you (the author)? What is our expertise and experience?  Why do we care?
3. Why this (the offer) What are the specific solutions you provide?
4. Why now (the urgency)
5. Why this price (the value)
Adding "why" makes blog content statements more customer-friendly!






The post Add a Little "Why" to Your Business Blog Content appeared first on Say It For You.